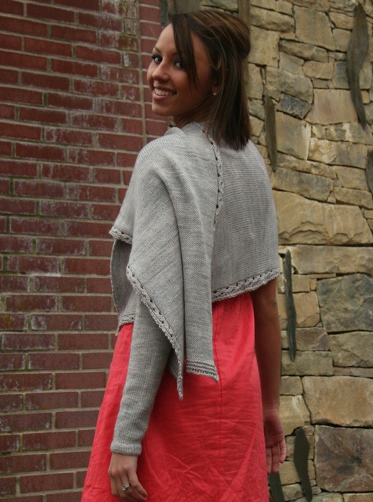 Last summer I came up with an idea for a garment that would be part wrap part cardigan.  Life came up and I ended up side-tracked from it for a few months, then part way thru November decided to get it 'wrapped up' and submit for the Spring/Summer issue of Knitty.  The submission deadline was January 2nd and I finished the knitting mid December, photographed it the weeks before and after Christmas (in high 20°s to high 30°s!) and set it off for Knitty's review on New Year's Eve.  In addition to the sample I knit (in the so soft Madelinetosh Pashmina), my friend and great knitter,Michelle.K also knit a plus sized sample using Tosh Merino Light.
Along with a number of others, I received a very nicely written rejection letter this week.  So now I can post photos and have the pattern listed on Ravelry, named Under Wraps Cardigan, for download.
The design is described as:
Part cardigan, part wrap; this European inspired asymmetrical garment is sure to have others take notice while wrapping you in style & warmth. Primarily knit in stockinette stitch, a simple eyelet edge provides an interesting finish.
Lightweight yarn knit at a loose gauge gives the Under Wraps Cardigan an airy, flowing drape great for wrapping around your shoulders. Using a provisional crochet cast on and with the assistance of Magic Loop, the entire garment is knit without a single seam. Once the knitting is completed, finishing takes only a few minutes.
The flexibility of this cardigan makes it versatile enough to suit a wide range of body styles. It is perfect for casual Saturday shopping trips and dressy enough to wear over evening wear and a must-have piece for expectant or nursing mothers. If desired, the length and width of the wrap can be altered to make the wrap portion larger or smaller (may affect yarn yardage needed).
The cardigan is designed to use either a fingering (Tosh Merino Light) or sport (Pashmina) weight yarn knit at the same finished gauge.