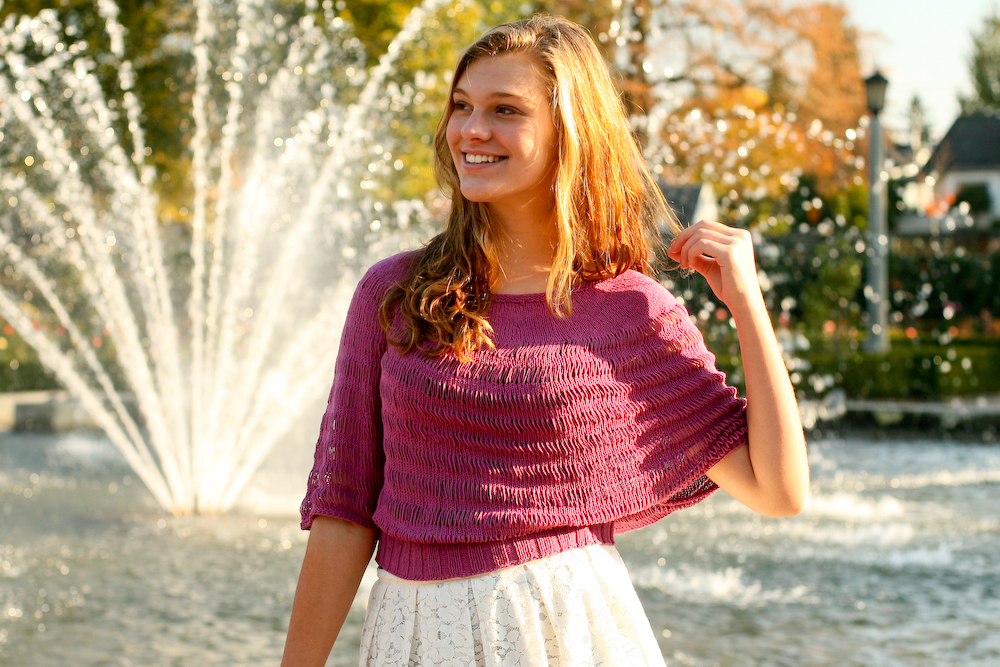 After a cold winter, everybody is anxious for warmer weather.  Here's an airy sweater to kick off warm weather knitting!
From the Spring+Summer 2014 Knitty issue, Rosarian is knit in Skacel's fingering weight HiKoo CoBaShi, a cotton, bamboo, silk and elastic blend, perfect for warm weather.  Unlike most sweaters with a defined body, Rosarian does not include the typical sweater pieces: body, sleeves, underarm, etc. But instead has a body that encircles the shoulders and upper arms with elbow length arm openings just above the fitted waistband.
Rosarian's unique shape and drapy fabric create a flattering silhouette for most any body type and the rows of dropped stitches make for a speedy knit.
The critical measurement of the sweater is the waistband (high hip circumference). Rosarian is designed to sit at the high hip with 0-3 inches of negative ease.
High Hip Circumference: 30, 33.5, 38, 42, 45.5, 49, 52.5 inches (shown with 2 inches negative ease)
Length: 20.5, 20.5, 22, 22, 23.5, 23.5, 23.5 inches
HiKoo by Skacel CoBaSi; 4, 4, 4, 5, 5, 6, 6 skeins