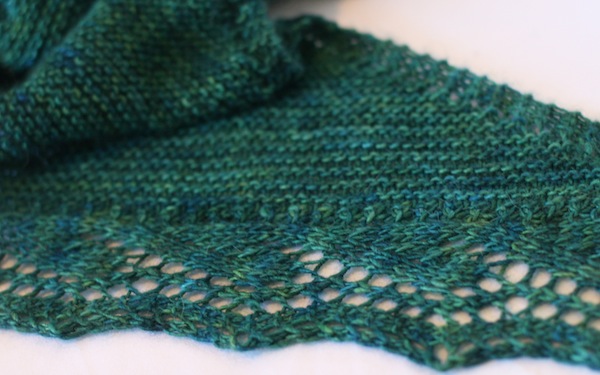 I mentioned a while ago that I was starting a new shawl design and haven't had much to report on it mostly because I've not knit on it's prototype lately.  Mostly because I started a new job about a month ago, and while I didn't really knit while at work before (it was a yarn shop, so there was 'some' knitting here and there), since at the new place I've hardly knit during the week at all.  Starting new things is exhausting!  So, the shawl progress, even though it is a quite basic design, has been pretty slow going.
As you can see in the photo above, it does now have a bottom edge! (at least enough to photograph a little section of it that is)  The pattern is close to being ready to release and I am looking for a couple knitters that might be interested in a sneak peak version of the pattern to work thru and let me know if they encounter any issues.  If you are interested, let me know!  Leave a comment with how I can get ahold of you 🙂
The shawl is knit from the top down in garter stitch (so why It's taken me this long…?) and finished with a edge that is knit sideways.  A typical 100g skein of fingering/sock yarn should work fine.