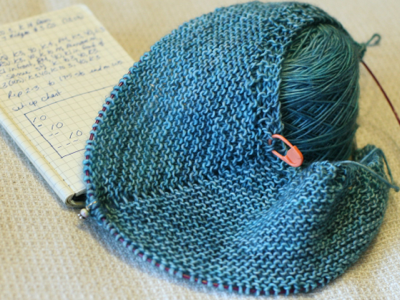 This weekend I am starting on a new shawl design, that will be a free pattern offered thru Happy Knits' in the next couple weeks.
As you can see in the photo, it starts at the top with a garter stitch yoke with yarn-overs at the selvage edges and a spine increase with a center yarn-over that works really well with garter.  After the garter yoke section, it will transition to a lace design that also incorporates garter patches for a cohesive overall garter look, and ending with a matching pointy edging.
The shawl is being designed to use about 350-400 yards of fingering weight yarn, so will work well with most any single skein of 100g sock or fingering weight yarn (namely my favorite, Tosh Merino Light) or possibly a single skein of sport weight yarn as well.
Stay tuned for future progress and the finished pattern!