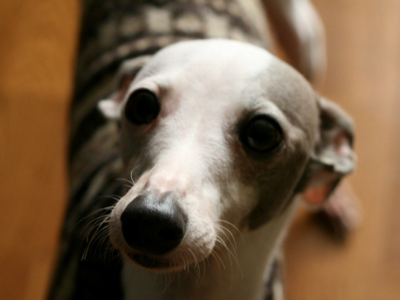 I have a stash of purchased wool sweaters that have accidentally gone thru the wash and been felted over the years that I have intended to someday make something with them.
This morning, I took one with the most length, a brown & tan fair isle style sweater, and after some altering of the pattern I have used in the past for fleece coats for my italian greyhound, Umi, I was able to work out a way to use it for a new sweater for Umi.
The back of the sweater wasn't large enough to be able to cut the body out as one piece, so added a seam above the leg openings for the front pieces cut from one of the sleeves, matching the stripes fairly close.
The neck band was the sweater's bottom ribbing that still had a bit of stretch and wasn't as felted as the colorwork parts of the sweater.
It fits him perfectly, with still a little bit of stretch, and should be great for keeping the rain off him better than polyester fleece coats when he goes outside this winter.