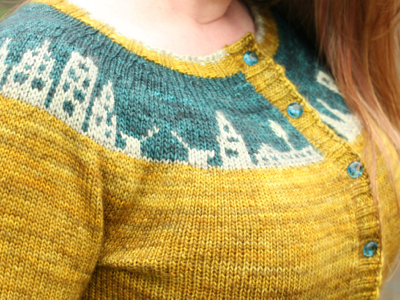 Generally, I post about my own original design projects here, but lately have been knitting projects from other's patterns.  My latest (and to date, favorite!) sweater is Cityscape by Laura Chau, published in Twist Collective Fall 2010.
However, I wanted to personalize mine, so added in four of Portland's bridges (Morrison, Burnside, Fremont and St John's), the Oregon Convention Center's towers and Union Station.
It is knit in Madelinetosh Tosh Merino DK in Olivia, Nebula & Smokestack and finished off with buttons to match Nebula that I picked up at a funky (funky in a strange bizarre way, more than funky in a cool way) fabric store in Pinole, CA while in the bay area for Stitches West 2010.
I love how it came together, love the yarn, love the colors, love that people can recognize my bridges & buildings!  love, love, love