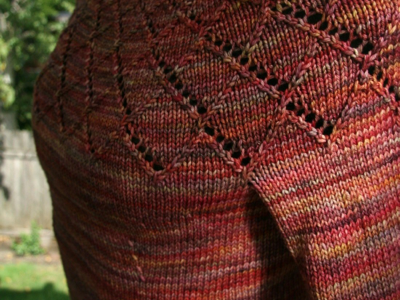 Earlier this year I was fortunate enough to have won a bag of the new Malabrigo Rios before it was available for purchase.  I decided to make Phyllo by Norah Gaughan with some modifications similar to those done by Mariposa in her Fitted Phyllo.  After some measurements and math, I started with a provisional crochet cast on at began at the bottom of the yoke and worked to the neck. Once the yoke was completed, I picked up the body stitches from the provisional cast on (leaving the sleeves) and worked downward adding japanese shortrows at the bust and under-bust darts for shaping.  After the waist, added a few increases at the sides and finished with 6 garter ridges for a hem.
Sleeves were then picked up with some decreases worked at the underarm and also finished them with 6 garter ridges at a 3/4 length sleeve.
Like many Malabrigo colorways, there were significant color differences between the various skeins, so I alternated each row between a vibrant skein and a more muted skein throughout the sweater.
More photos & info can be seen on my project page.