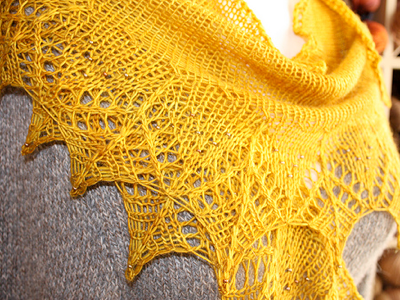 Now with a number of knitting patterns available, I thought it would be beneficial to start a simple website with information on my designs as well as my other knitting or spinning projects being worked on.
Most recently, I finished Annis (By Susanna IC) from Knitty in Madelinetosh's Tosh Merino Light in the colorway Candlewick.  Instead of working the nupps as the pattern was written, I added size 8/10 satin finished beads in an assortment of gold and copper colors.  If you are in the Portland, OR area, my Annis is brightening up one of the dress forms at Happy Knits at 1620 SE Hawthorne.
I also am wrapping up an adaptation of Phyllo (By Norah Gaughan) using the new Malabrigo Rios in Archangel I won on Ravelry from Malabrigo Yarn in the Rios' naming contest.      After getting thru the yoke and body fairly quickly, I let it sit and put off working on the sleeves for a few weeks.  Doing two sleeves at a time and alternating balls of yarn on each row makes this a pretty immobile project and keep finding other projects to work on instead.
Finally, I have a couple design projects I am working on.  Both just needing the sample pieces to be knit up and photographed.  More info on these once they are out in the public.